Whether it's for style, comfort, or affordability, Crocs have found a steady fan base among teenage girls and young women. They are looking for budget-friendly yet versatile footwear. From classic clogs to colorful wedges, these rubber shoes have evolved from ergonomic workwear into a trendy fashion statement with their unique wavy design. Customization options, celebrity endorsements, and collaborations with luxury brands have fueled this transformation.
Today's Crocs come in diverse designs that cater to every girl's style – from the cheerfully colorful to the quietly chic. They are perfect for girls seeking convenience and practicality in footwear. These shoes keep their feet comfy and dry, whether running errands, hitting the beaches, or walking the streets.
Sleek, sporty, and sophisticated styles now sit alongside the original comfy clogs. This variety makes Crocs a favorite choice for girls and teenagers. They seek footwear that blends affordability, durability, versatility, and style. So let's look at why girls wear Crocs one by one in more detail.
Page Contents
Why do girls wear Crocs?
Comfort
Girls wear Crocs shoes because they are incredibly convenient and comfortable footwear. Crocs shoes offer spacious and cushioned interiors that comfortably fit girls' feet.
The lightweight, breathable, and flexible materials used in Crocs provide all-day comfort to girls carrying out daily activities. The air vents allow the feet to breathe, keeping them fresh and dry even in hot, humid weather.
Crocs have soft textured footbeds that provide enough arch support and cushioning. These features mold to the shape of girls' feet, eliminating fatigue after long wear.
They are simple to clean and dry quickly, making them an ideal choice for girls. Girls who like carefree and practical shoes can focus on fun while wearing them.
Overall, Crocs allow girls to remain active while providing hygienic, stress-free comfort and support to their feet.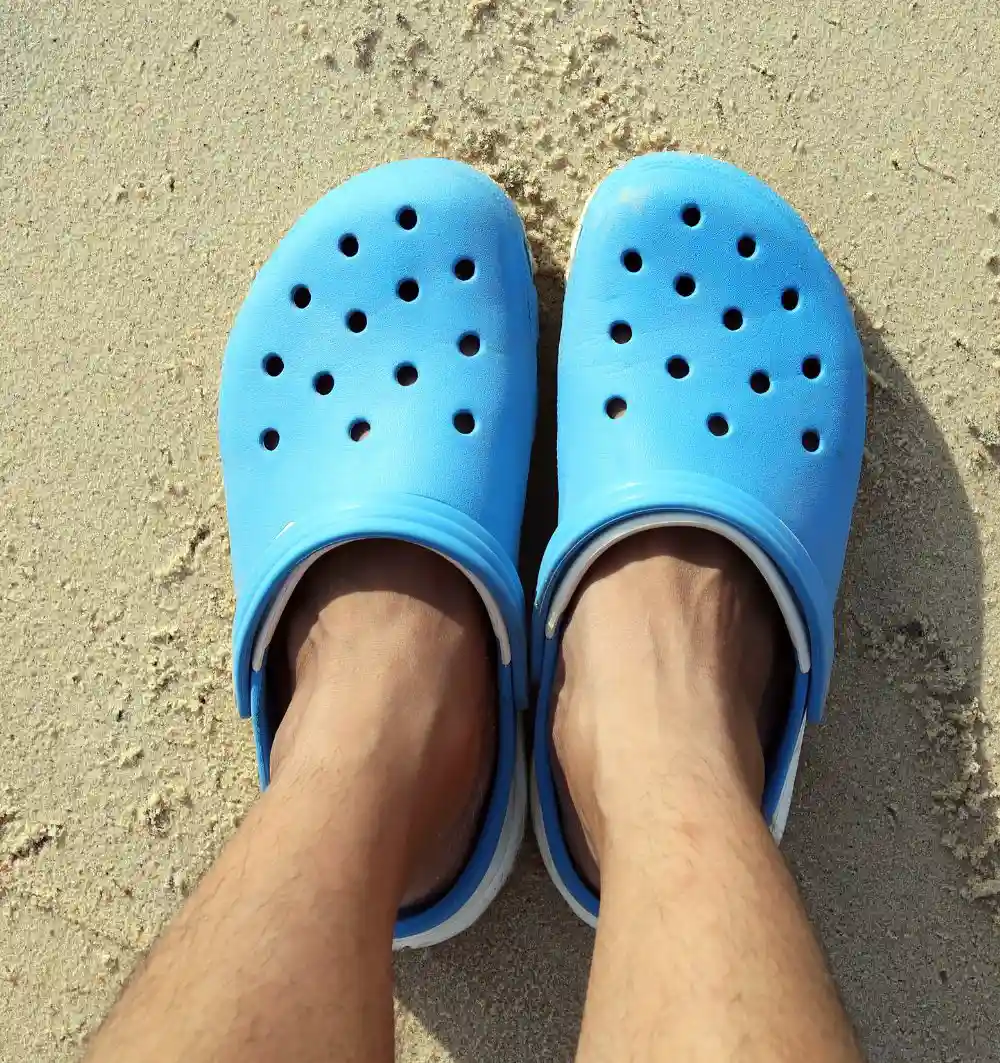 Convenience and Practicality
Crocs provides a very convenient and practical option for girls' footwear. The shoe design makes them very easy for girls to slip on and off quickly. They have multiple rubber air holes that allow air to circulate, cooling and drying out girls' feet.
The lightweight material used to make Crocs ensure they can easily dry quickly after getting wet. These qualities make Crocs perfect for girls for very active use like beach trips, casual everyday wear, water sports, and even hiking.
The open design provides girls complete freedom of motion for their feet and toes, while the flexible textured sole keeps the feet secure and steady. Crocs's drain holes and quick-dry nature enable girls to wear them for outdoor activities in wet conditions. This way, their feet do not feel clamped in wet shoes.
Overall, Crocs offers girls a flexible yet secure, drying and cooling shoe option for hassle-free convenience.
Style and Trendiness
Crocs have become trendy footwear that many girls choose to wear as a fashion statement. Crocs now come in various different styles like clogs, sandals, sneakers, and wedges. The brand offers many colorful and patterned options that girls find stylish and attractive.
Celebrities and famous personalities have been spotted wearing Crocs, making them popular among young girls looking for affordable yet trendy shoes. Crocs' collaborations with high-end brands like Balenciaga have given them more appeal as a fashionable shoe choice.
Girls can pair Crocs with casual and semi-casual clothing options to create fun, carefree, trendy outfits. Though initially known only for comfort, Crocs has evolved in terms of styles and designs. These styles and designs allow girls to wear them as a trendy alternative to boring slip-ons and flats.
The lightweight and colorful Crocs have become a youthful fashion shoe that expresses girls' individualistic styles.
Affordability
The reasonable price tag of Crocs makes them a popular option for many girls looking for comfortable yet affordable footwear. Crocs cost only around $20 to $60, which is very budget-friendly compared to most other casual shoes for girls.
The affordable rates make Crocs accessible even for younger girls and teenagers with limited budgets. Many girls who prioritize comfort over following the latest fashion trends view Crocs as a perfect shoe choice that balances practical comfort and value for money.
The durability of Crocs makes them a worthy investment for girls despite their low cost. Parents also prefer buying Crocs for their daughters as they are pocket-friendly yet meet basic footwear needs of being light, supportive, and easy to maintain.
The simple styles and versatility of Crocs across different outfits make them a practical yet inexpensive shoe option. This option is for girls of all ages seeking daily comfort shoes at affordable prices.
Versatility
The diversity of designs and styles allows Crocs to be very versatile footwear for girls. Crocs now come in the form of clogs, flats, heels, sneakers, and sandals, giving girls more options to match them with different outfits, from casual to semi-formal.
Crocs classic clogs can be worn for activities like swimming, boating, and beach parties. While sneakers and flats are perfect for everyday wear and pairing with jeans, leggings, and dresses. Crocs heels and wedges make them appropriate for more dressy occasions.
The lightweight and breathable material ensures comfort during long wear, enabling girls to wear them both day and night. The easy slip-on design of Crocs means girls can quickly change into them for different settings.
Overall, the variety of styles, designs, comfort, and convenience make Crocs versatile footwear. Girls can wear them for almost any casual or dressed-up occasion.
Customization and Personalization
The ability to customize Crocs with Jibbitz charms allows girls to personalize their footwear according to their tastes and interests, making these shoes appealing.
The Jibbitz charms come in many different shapes, designs, and motifs, which girls can attach to the pre-punched holes on Crocs. This enables girls to customize their pair of Crocs to reflect their personalities and styles by selecting charms featuring themes like flowers, animals, cartoons, stars, and more.
The charms are easy for girls to attach and remove, so they can frequently change the design of their Crocs shoes. The option to personalize Crocs with Jibbitz charms enables girls to feel unique, as no two pairs of Crocs charmed shoes will be identical.
Parents also like that the Jibbitz charms are not permanent so that girls can reconfigure the placement and selection of charms on their Crocs over time as their tastes change.
Overall, the Crocs Jibbitz charm system offers girls a creative outlet to express themselves through their footwear's personalized yet modifiable design.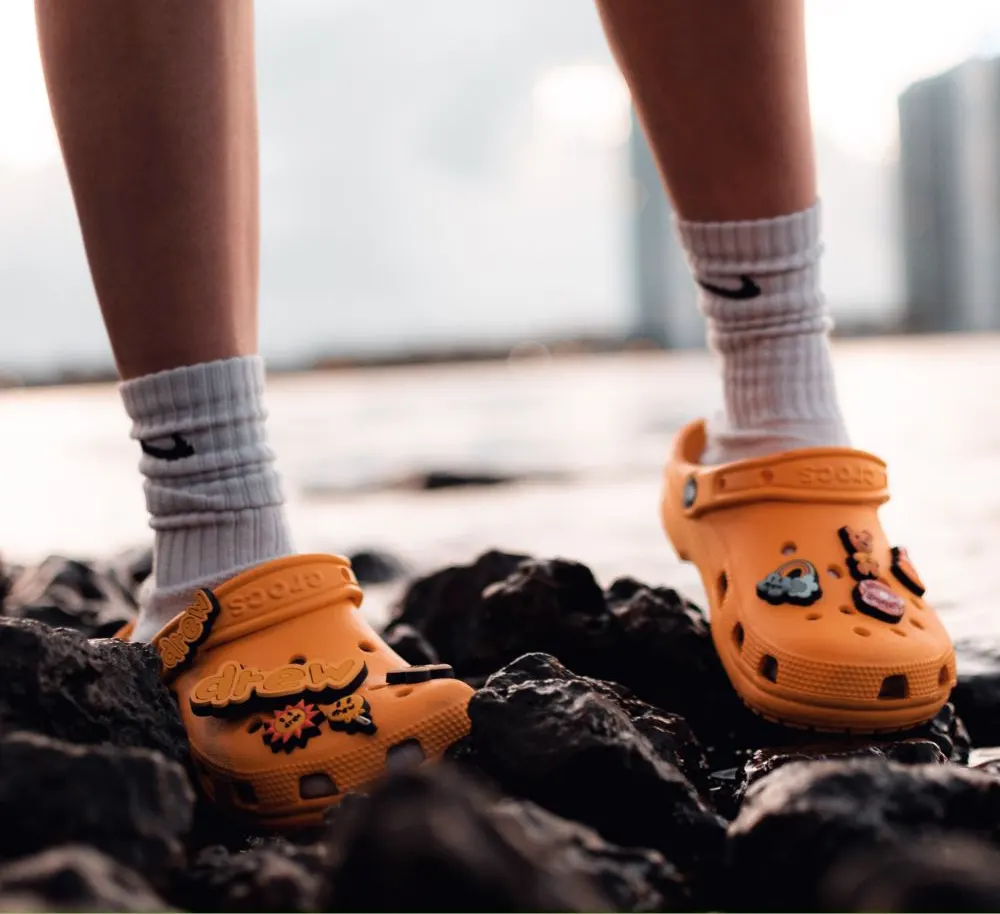 Popularity among Teens and "Ugly" Aesthetics
Crocs have become very trendy among teenage girls as part of the 'ugly' fashion trend, where unorthodox designs are embraced. Teens and Generation Z girls value overhauled couture fashion's comfort, convenience, and uniqueness.
Crocs offer just that with their easy, laid-back style. Many young girls are drawn to Croc's unconventional curvy shapes and bright colors that set them apart from ordinary shoes.
Designs that were previously considered ugly are now being redefined as cool and quirky by Gen Z. Girls who wear Crocs desire to express their individuality and subvert traditional aesthetics.
Crocs' popularity among teenage girls can also be attributed to their practical features, like being lightweight, flexible, and easy to wear. Celebrities and social media personalities have endorsed Crocs, further contributing to their appeal among young girls.
Overall, Crocs' affordable price point, arguable good looks, and comfort value align with what teenage girls look for in their footwear and therefore have become trendy.
What generation wears Crocs?
According to a survey result, Generation Z individuals born between the mid-1990s to early 2010s use Crocs shoes the most compared to other age groups. The survey found that 11% of Gen Z respondents currently own a pair of Crocs, and 35% plan to buy one in the next three months. In contrast, only 3% of Baby Boomers reported owning Crocs currently, while 15% were interested in purchasing them soon.
Several factors contribute to Crocs' popularity among Gen Z. Firstly, Crocs have become more trendy and fashionable in recent years, particularly among Gen Z, who are highly influenced by fashion trends. Crocs now come in many stylish designs and colors beyond the basic clog. Celebrities and social media influencers have also been spotted wearing Crocs, making them "cool" for Gen Z.
Secondly, Crocs are known for being comfortable and versatile, which is important for active and mobile Gen Z individuals. The breathable materials and slip-on design make Crocspractical for sporty Gen Z lifestyles.
Thirdly, Crocs are relatively affordable compared to designer shoes which appeal to Gen Z individuals who often have limited budgets.
Of course, not all Gen Z members are fans of Crocs. Some find them uncomfortable or unfashionable. However, the survey results clearly show that Crocs are significantly more popular among Gen Z than other age groups.
Several factors likeCrocs'diversified styles, trendiness due to celebrity endorsements, comfort, and affordability align well with Gen Z preferences for fashion and footwear.
These factors, coupled with aggressive marketing by Crocs specifically targeting Gen Z, are likely fuelingCrocs'popularitywith this age demographic and will possibly continue to do so in the coming years.
What gender wears Crocs the most?
According to a 2022 survey by CivicScience, females wear Crocs shoes more than males. The survey found that 60.3% of Crocs owners were female, while only 39.7% were male. This gender gap has been narrowing in recent years but is still sizable.
Several factors may be contributing to higher female Crocs ownership. First, Crocs are often viewed as a more feminine shoe option. They often come in bright colors and have a casual appearance.
Second, Crocsshoes are perceived as offering more comfort, which women tend to prioritize when choosing footwear more than men.
Third, Crocs are believed to be more versatile, and women are more inclined to wear them for multiple activities like shopping, working out, and beach trips.
However, not all women wear Crocs, and not all men avoid Crocs. Ultimately whether to wear Crocs is a personal decision. But the data shows that more females than males choose Crocs. The higher number of female Crocs owners may be because women tend to place more value on footwear traits that Crocs excel in, like colorful designs, comfort, and versatility, which align well with how women apparel their footwear choices.
While Crocs' unisex appeal is growing, they still resonate more with female consumers currently, most likely due to being viewed as a more feminine shoe brand.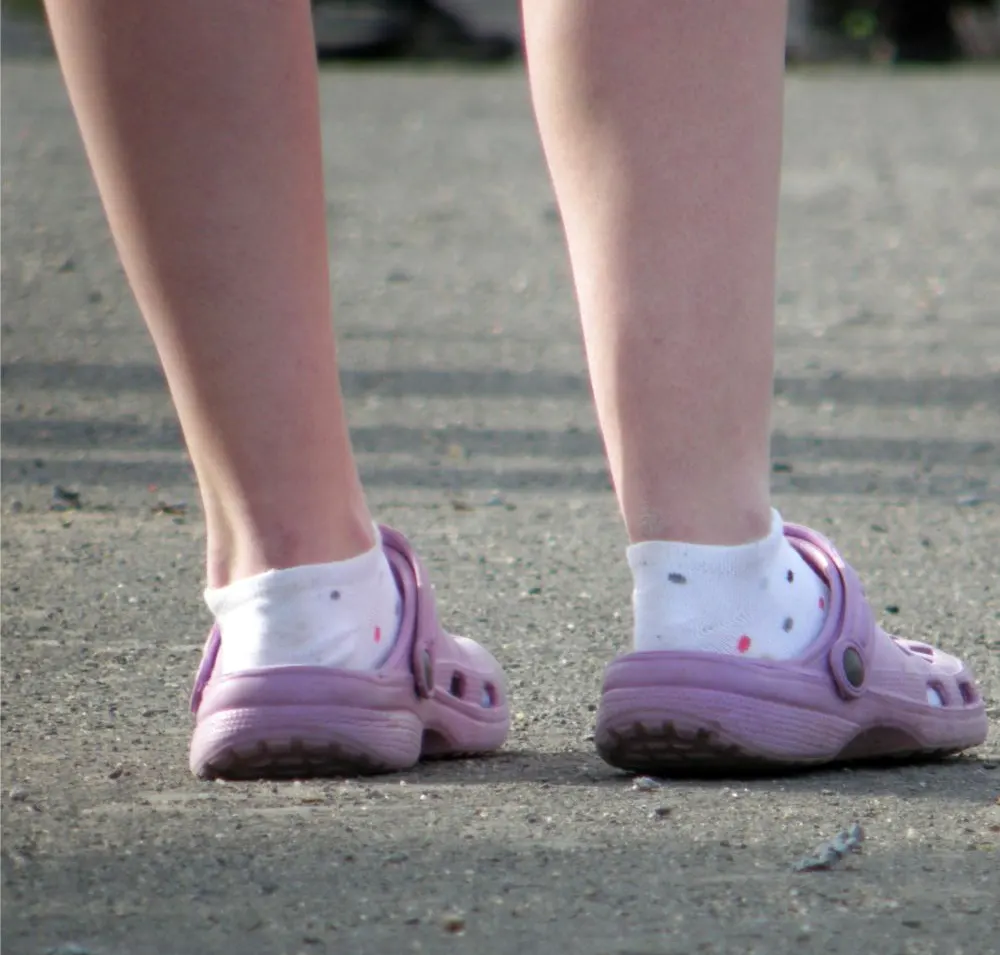 Summary
Crocs have gained popularity among teenage girls and young women due to their style, comfort, and affordability. The brand offers diverse designs to cater to every girl's style. They provide convenience and practicality and keep feet comfy and dry. With sleek and sporty styles, Crocs are a favorite choice for girls seeking affordable, versatile footwear.
The shoes offer comfort through soft footbeds and are easy to clean. Crocs' drain holes and quick-dry nature make them ideal for outdoor activities. They have evolved as a trendy alternative to slip-on flats, blending style, and comfort. Crocs are affordable, durable, and versatile, making them practical for girls of all ages.
Girls can personalize their Crocs with Jibbitz charms, expressing their unique styles. The 'ugly' aesthetics and the endorsement of celebrities have contributed to Crocs' popularity among teens.
Generation Z individuals wear Crocs the most, attracted by their trendiness, comfort, and affordability. Crocs are favored more by females, as they are viewed as feminine and offer comfort and versatility that align with women's preferences.
FAQ
What celebrity wears Crocs?
Some celebrities have even collaborated with Crocs to create their own designs, including Nicki Minaj, Justin Bieber, and Drew Barrymore. Nicki Minaj bedazzled her pink Crocs with Chanel jewels, while Justin Bieber and his brand, Drew House, have collaborated with Crocs on multiple occasions. Other celebrities spotted wearing Crocs include Ariana Grande, Bad Bunny, Pharrell Williams, SZA, Drew Barrymore, Post Malone, Luke Combs, Saweetie, Vanessa Williams, Elliot Page, and Whoopi Goldberg.
Why are Crocs so popular in hospitals?
Crocs have become a popular shoe choice among hospital staff, especially nurses, because of their comfort, ease of use, slip-resistant and easy-to-clean features, and affordability.
Why do restaurant workers wear Crocs?
Crocs have become a popular shoe choice among restaurant workers, especially chefs and kitchen staff, because of their slip-resistant, easy-to-clean, comfortable, lightweight, breathable, and affordable features.
Are Crocs male or female?
Crocs are unisex shoes that people of all genders can wear.
Why don t gyms allow Crocs?
Gyms do not allow Crocs because they are not designed for athletic activities, do not provide enough support or protection, and are unsuitable for exercise.